Best Waterproofing Services in Kolkata
Terrace Waterproofing Service in Kolkata
Waterproofing Contractors in Kolkata
Get Terrace Waterproofing Estimate (Kolkata)
Get Waterproofing Estimate Live in Whatsapp.
Best Water Proofing Service in Kolkata
Are you searching for a professional Waterproofing Contractor in Kolkata? your search end here. We are leading terrace waterproofing contractor in Kolkata and best Waterproofing company in Kolkata. We have more than 20+ trained professional Waterproofing Expert Technician in Kolkata and completed more than 500+ Waterproofing work in Kolkata.
We provide high-quality waterproofing solutions and services for a wide range of building terraces, including dwellings and commercial institutions like as retail malls. Our superior waterproofing treatment ensures that your building terrace can sustain pressure for an extended period of time. We also provide excellent waterproofing solutions to protect places like patios, bathrooms, and basements free of moisture and humidity. They are reasonably priced solutions for long-lasting walls that are also straightforward to install. Your walls will be stronger and more resistant to moisture as a result of the widely available waterproof cement and paint. All that is necessary is to make an appointment on our website. Furthermore, we hire top-tier waterproofing experts who protect against dust and water damage.
Best Waterproofing Contractors in Kolkata
We all like watching the rain fall while reading a book and sipping hot coffee by the window, but if your roof or ceiling isn't waterproof, this pleasurable scenario may quickly turn into a snafu. After all, it's not exactly comfortable to have water drop on your head, is it? Do you want to give your home's walls a gorgeous metallic finish? If your home is prone to water seepage, Mould development, or paint flaking, use waterproof paint instead of conventional metallic paint on the walls.
To prevent water damage, use Terrace Waterproofing Service in Kolkata to your walls and ceiling. We protect them from dampening by coating the walls with waterproof paint that keeps rainfall out. Choose your favorite color and don't let money be the determining factor. Spray waterproof paint on your walls for added durability and protection against precipitation, Mould, and dust. Even little leaks can cause Mould development, damaged ceilings, and insulation problems, so don't disregard even minor seepage.
How it works
Book Our Service in Just 4 Step.
Get Estimate
Finalize The Quotation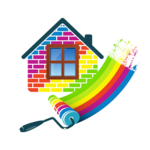 Let The Work Begin
Why Sunshine Home Painting Service ?
Frequently Asked Questions
Many of our customers have specific questions about our Professional Roof or Terrace Waterproofing Service in Kolkata. Here are just a few of the frequently asked questions we hear at Sunshine Home Painting Service. Do not hesitate to call us if you can't find what you're looking for.
Why Sunshine Home Painting Service is the best waterproofing service in Kolkata?
Sunshine Home Painting Service presented as best terrace waterproofing company in Kolkata . The company roof waterproofing service in Kolkata is the best because of the facility that the company grants. The company offers you the best painter, trained and very skilled in waterproofing. Our staff is very Humble and generous.
What is the cost of Terrace and Roof Waterproofing Services in Kolkata
Generally Terrace or Roof Waterproofing cost vary from Rs. 65/sqft to 100/sqft. It's totally depends upon condition of terrace or roof.
What is the process of taking Sunshine Home Painting Service - Waterproofing Service in Kolkata?
Firstly, Sunshine Home Painting Service provides a phone call from a representative and asks about your requirement. After that, they will visit the site and inspect the place. After understanding your needs, we will present you with a best waterproofing experts and site in-charge. After that, the team checks every safety tool like checking the site's temperature, sanitizing the area properly, measuring safety, etc. The company superior is also available during intervals. They will check the painters and guide painters for performing better work.
How long does it take to do waterproofing of my terrace?
Usually it takes 7-10 days.
What COVID-19 Safety Protocols do you follow?
We implement stringent safety standards and conform to government rules. To ensure the safety and well-being of your clients and our personnel, we are following the advice of health experts from the World Health Organization (WHO). Sunshine Home Painting Service has also included a COVID - 19 screening methodology to its services. Call us for more information! We periodically monitor our employees' temperatures while wearing masks and observing social distance. We also utilize CDC-approved items and continue to follow the guidelines to reduce the danger of infecting other members of the site's employees.
Process For Roof and Terrace Waterproofing Service in Kolkata
We understand how tough it is to locate a reliable waterproofing service in Kolkata to execute this operation. You don't want to have to start again after only a month because the resources used were untrustworthy or the proofreading was done incorrectly. The waterproofing service in Kolkata procedure provides three alternate remedies to the various problem locations in the terrace/roof.
Our professional waterproofing experts in Kolkata use a careful process as well. After removing the old putty from your walls, they use a metal brush to carefully smooth out the surface. The wall fissures are then sealed with at least two coats of a waterproofing solution, forming a very thick layer that is impermeable to water and mould growth. They apply a chemical layer, then a priming coat, followed by two or three coats of paint.
Different Methods for Waterproofing in Kolkata
1. Waterproofing using cement
The simplest form of waterproofing inbuilding is cementitious. The suppliers of masonry goods may easily provide the materials for cementitious waterproofing.
2. Waterproofing membrane in liquid form
The liquid membrane is composed of two topcoats and a primer coat. Liquid waterproofing offers greater flexibility and flexibility when compared with cementitious waterproofing.
3. Waterproofing Bituminous Coating
Asphalt coating is formed of bitumen-based compounds, often known as a bituminous coating. The grade of the polymer and the fibre reinforcement can have an impact on flexibility and water resistance.
4. Waterproofing using Bituminous Membranes
Low-sloped roofs typically use bituminous membrane waterproofing because of its reliable performance. The bituminous waterproofing membrane features a self-adhesive membrane and a torch on the surface.
5. Waterproofing using Polyurethane Liquid Membrane
The polyurethane liquid membrane technique of waterproofing is utilised for flat roof areas that are susceptible to deterioration. This waterproofing technique is pricey. Finally, you'll have a wall that appears to have just been installed!
Why You Choose Us For Roof Waterproofing Service in Kolkata
Do you wish to get waterproofing done in Kolkata to preserve the walls of your home? If the answer is yes, you have come to the ideal location for waterproofing services in Kolkata.
We provide waterproofing and skilled painting services in Kolkata. When getting waterproofing in Kolkata, there are numerous considerations to make such as waterproofing services Kolkata cost, kind, and material.
If you choose the top waterproofing specialists in Kolkata, they will take care of the type of material and kind. You must be well informed before obtaining the most reliable waterproofing services in Kolkata at an affordable price
Comman Product Used For Roof/Terrace Waterproofing Service in Kolkata
Use the most modern terrace waterproofing solution to protect the complete building structure. With us, you may discover solutions that are tailored to your specific requirements and budget. We use high-performance products like Dr. Fixit and Brushbond to ensure that your patio is strong enough to withstand any type of pressure and that it remains intact over time.
Product used for terrace and roof waterproofing
Grout and Epoxy
This substance can be applied to functioning structures that have acquired cracks. These substances need to be injected into the fractures or inserted into the surface by drilling holes. A sealant is produced, which results in the formation of a barrier that is water-resistant.
Vinyl Ester Resin
These substances are applied to concrete surfaces to guard against corrosion and acid damage. Waterproof membranes are made possible by the resin, protecting against moisture and water damage.
Polyurethane
This substance is used on exposed surfaces and to waterproof roofs. One of the priciest chemical waterproofing techniques on the market is this one.
Polyurea
Concerning protective coatings, polyurea is regarded as one of the most flexible, durable, and strong materials available. Additionally, this substance has antimicrobial qualities.
Bituminous
The ideal material for waterproofing concrete foundations is bituminous, sometimes referred to as asphalt coatings. The kind of polymer employed and the amount of fibre added to the chemicals affect the waterproofing qualities.
Acrylic polymer
One of the most popular and best characteristics of waterproofing material for concrete structures is this. This chemical waterproofing solution is used to waterproof terraces and stop leaks on walls. Additionally, only specialists and highly skilled individuals are permitted to do this sort of waterproofing.
The structure is made waterproof using a variety of chemical waterproofing chemicals. According to the kind of cracks. To fully comprehend the necessities, you might need to consult with waterproofing contractors that have experience.
Get Terrace Waterproofing Estimate (Howrah)
Customer Review
Our hard work is paying off. Great reviews from amazing customers from Kolkata.
About 5 years ago I hired Sunshine Home Painting Service for terrace waterproofing in my house. No leakage so far. This year again contacted for maintenance. Really within no time that work executed and I'm fully satisfied from their waterproofing services. Thank You Sunshine Home Painting Service.
Got my terrace water proofing done by Sunshine Home Painting Service, Kolkata. The work was completed within time and within my budget. The price was very reasonable and service was excellent. Waterproofing done by trained technitian under the guidance of Supervisor Sourav Maity who is very polite.
A very pleasent experience dealing with Sunshine Home Painting Service, Kolkata. I hired them for terrace waterproofing of the roof of our building in Dum Dum. Present supervisor have very good knowledge and experience in terrace waterproofing, all the painters and owner is very polite in nature.